Skip to Content
Smoothie Bus in Manchester, NH
We'll bring our big yellow bus to you! The Smoothie Bus offers curbside service with our unique Smoothie Bus in Concord and Manchester, NH. Our food truck season runs from April to October. It's perfect for sporting events, company outings, food truck festivals, farmers' markets, old home days, business visits, and anything else under the sun. The bus is a perfect healthy alternative to traditional food trucks. We'll bring our menu of over 20 smoothies and other excellent snacks and drinks straight to you. It's as easy as a click of a button to reserve the Smoothie Bus.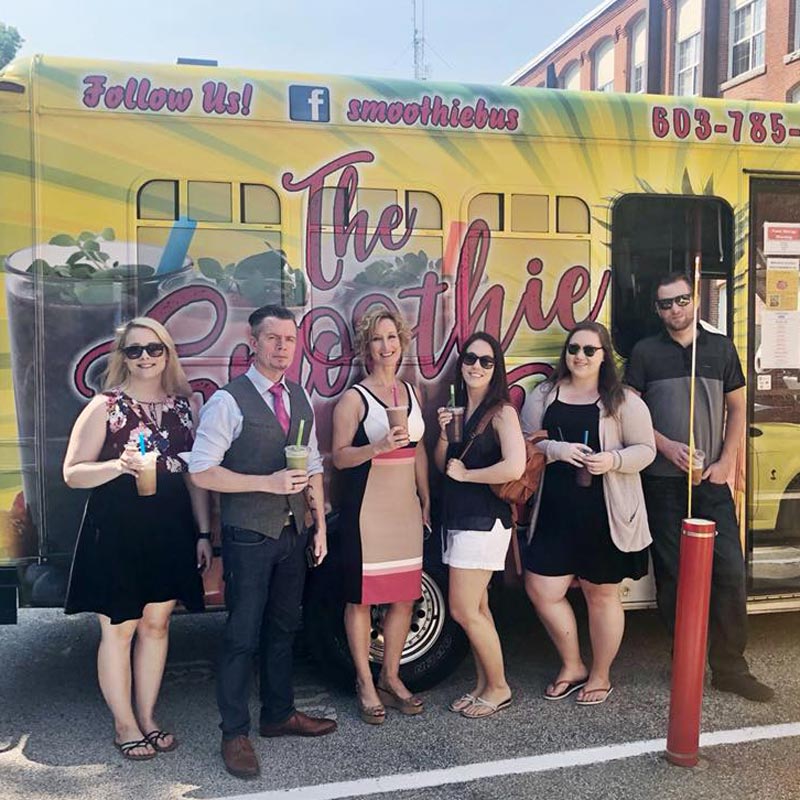 Let The Smoothie Bus Host Your Next Event
Don't let hosting an event stress you out, let us do the work! The Smoothie Bus is the perfect addition to all kinds of celebrations and events. We regularly host birthday parties, bachelorette parties, functions, corporate events and parties, and grand openings for businesses. We'll bring our Smoothie Bus to you, filled with all the smoothie goodness you can imagine. Whether your guests love Peanut Butter Power or Banana Cream Pie smoothies, we'll bring it all. You get to sit back and relax while serving your guests the best smoothies and goodies in town.
Our History of Sharing Smoothie Love
Our delectable smoothies started on a little Smoothie Bus. We transformed an old ice cream truck into our fun yellow bus you see today. In 2018, our owners got behind the wheel of the Smoothie Bus and rolled the streets of Manchester each weekend. The yellow bus became such a hit that there was often a two-hour wait. We had such a great time sharing our love of smoothies and meeting all the wonderful customers that we decided to share the love even more by opening a storefront. The best news for you is that you can indulge your sweet taste buds with our Smoothie Bus or come into the store for a treat!
Grab a Healthy Smoothie Today!